Our General Manager Nihal Arslan answered questions from WORKSHOP magazine.  September 2021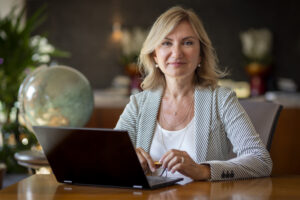 Can you tell us briefly about your professional background?
I graduated from Istanbul Technical University Faculty of Chemical Metallurgy Department of Chemical Engineering in 1984. I then completed the MBA program at Istanbul University Institute of Business Economics. I started my career in the Production Planning Department of Bilim Pharmaceuticals, where I worked from 1987 to 1990. In 1990, I assumed the positions of Planning Manager, Product Manager, Marketing Manager, Marketing Director, and Assistant General Manager Responsible for Marketing and Sales at Ali Raif İlaç, respectively. As of October 1, 2020, I was appointed as the General Manager of the company where I have been working for 30 years.
Could you tell us about the history and current organizational structure of Ali Raif İlaç?
Ali Raif has roots that go back to the early years of the young Republic. It was one of 157 companies founded in Turkey in 1928. The company was later reorganized in 1963 to operate in the pharmaceutical industry. Through its strong international ties, Ali Raif has encouraged several international pharmaceutical companies to enter the Turkish pharmaceutical industry. Ali Raif adopts the mission to add value to life with its principles of respect for people, reliability, success orientation, a modern and innovative mindset, protecting and improving human life, and providing high-quality services and products to society.
Ali Raif manufactured and marketed pharmaceutical products under the licenses of multinational companies in its early years. Since the 1980s, it has been importing finished products, producing and marketing pharmaceutical equivalents, and increasing its export volume annually. Through its production facility investments, it became a key player in the Turkish pharmaceutical industry.
It carries out its operations with its regional offices across Turkey, the İkitelli Production Facility, its head office at 4. Levent, and a strong team of 700 people. Our company also attaches importance to women's employment in the recruitment processes. The percentage of female managers is 32 percent.
The Ali Raif İlaç manufacturing facility began operating in the İkitelli Organized Industrial Zone in 1999 and has a total area of 10,500 square meters, including a factory building of 8,500 square meters, an auxiliary operations building of 500 square meters, an offices and laboratories of 1,500 square meters. The manufacturing facility has an annual production capacity of 60 million boxes and includes manufacturing, packaging and storage areas, quality control, and R&D laboratories and technical service facilities, which are equipped to respond to any condition.
Which treatment areas does Ali Raif cover? 
Ali Raif İlaç ranks 20th in the Turkish Pharmaceutical market with a growth rate of 24 percent based on net turnover. In addition to our existing brands, we continue to grow by offering products in different treatment fields, all of which are developed in our own R&D Center and produced in our own factory. 
We have been operating in the Turkish pharmaceutical market with our team of experts. We've been operating in gastroenterology and cardiology for over 55 years; endocrinology and diabetes for over 50 years; psychiatry and neurology for over 40 years; and physical therapy, rheumatology and orthopedics for nearly 30 years.  In addition to these long-standing fields, we continue to work as a reliable stakeholder with our new brands in specific treatment areas such as hematology, organ transplantation and MS.  In addition to the food supplements, which grew in importance during the pandemic period, we also provide services in the field of consumer health treatment with sweeteners and medical devices under our Aris Life brand.
Ali Raif has been serving the Turkish pharmaceutical industry for 58 years with more than 200 different pharmaceutical products and 70 brands. We continue to maintain our cooperation with global companies.
The foundation for the new production facility was laid in June. How will it contribute to the company and wider industry? 
The factory we established 22 years ago brought us here today. We continue to grow significantly each year. In June, we laid the foundation for yet another factory that will carry us into the future. This new factory is to be completed by the end of 2023. With this factory, we aim to open new production lines, increase the current production capacity four-fold, grow our workforce by 30 percent, and expand our export volume at the same time.
The factory will be built on a 24,000-square-meter area with an investment of €100 million. Furthermore, plans are in place to make all production processes zero-waste in line with our "Respect for People" approach and "Adding Value to Life" mission.
We are all very excited and proud of this development.  Our new priority is to swiftly complete this factory so that we can start production, expand our production line, increase our capacity, and expand our product portfolio. Our dream is to reinforce our position in the Turkish pharmaceutical market, be a reliable partner by cooperating in the field of production, and become a successful player in the global market. I believe this investment will benefit our country and our industry.
Could you provide information about the company's R&D approach and investments?
After engaging in research and development activities for years, our R&D department is granted the status of an R&D Center upon the approval of the Ministry of Industry and Technology on January 2, 2017. Ali Raif İlaç R&D Center continues its activities to create innovation in pharmaceutical production, to produce innovative products, and to train employees with a team that has deep industry experience. Our research & development journey began with only eight people years ago and has since turned into a staff of 28 with the growth of our R&D Center. Thanks to our R&D Center and the intensive cooperation we have undertaken with universities, our researchers are encouraged to participate in master's and Ph.D. programs, ensuring their knowledge and skill bases remain dynamic and relevant.
The patent and brand departments within the R&D department aim to deliver the first equivalents of the patented products to the market following the expiry of the patent period. These will make a significant contribution to the country's economy. In addition, they continue to work on options that will provide ease of treatment by making patent applications for innovative forms of the products that are currently being produced within the scope of our patient-oriented approach.
Research is our future. When our new factory commences operation, our existing R&D Center will expand physically, creating more jobs. The new pharmaceutical production facility will have a technological infrastructure and an organization that would be recognized by international authorities. This will contribute significantly to the capacity of our country's pharmaceutical industry.
In which areas do your values as a person and the corporate values of Ali Raif İlaç overlap?
I can say that many values overlap. Working at Ali Raif for more than three decades is living proof of this.  I love my family very much. They are very important and dear to me.  Ali Raif İlaç is also like a family. Family members love and respect each other. They stick together in difficult times. They support and protect each other. They share happiness and sadness. We are serious and meticulous when it comes to work. We respect people and the environment, and we keep our promises. We also don't make promises we can't keep.  Our experienced teammates guide our new teammates, instill the corporate culture and show patience in the process. We attach importance to education and experience, and allocate our resources accordingly. Education is the only way to enact change and ensure transformation. That's why we value educated people. With the help of our educated people, we are confident that we will reach our goal while building a better future.
How has Ali Raif İlaç's way of doing business changed during the pandemic and to what degree? What are your takeaways from this process?
The pandemic presented us with a completely different world.  We have fast-forwarded to implementing business models and processes that were not expected for five years.  We continued our operations for months without meeting in person. We were able to undertake tasks and projects that we believed impossible without face-to-face communication. We were unable to visit healthcare professionals for a long time. I realize that we were too optimistic about how long the process would take on March 11, which marks the confirmation of the first COVID-19 case in Turkey. Developments indicate that we may experience different pandemics.
In the first days, our priority was education. Face-to-face training was replaced by online training. Our experience has given us agility. Today, rapid action is favored. We quickly adapted to this process and determined "sustainability" as our most important goal. I think we have made bold decisions by considering different perspectives and breaking our habits. This learning period is a guide for the future. Digital promotion and marketing activities have replaced face-to-face activities. We work with short-term flexible plans instead of the long-term and definite plans that we were accustomed to. We share the results of our experiences. I can say that learning from our actions making new plans by benefiting from what we have learned, acting quickly and decisively, reviewing targets by prioritizing sustainability and making them suitable for the period increased our business success.
How would you evaluate the current situation of the Turkish pharmaceutical industry and its future path? 
The pandemic has affected every sector differently in the world economy. We also see that the Turkish health sector has been affected by the pandemic. During this time, the management of the pandemic, access to medicine, and health communication were hot topics.
The Turkish pharmaceutical industry is a strong and well-established sector. There are 739 companies operating in the field of health. Additionally, 1.7 billion boxes of medicine are manufactured in factories in Turkey. The Turkish pharmaceutical sector grows every year. However, during the pandemic period (16 months), it shrunk by 10.52 percent box-wise compared to the previous period, even though it did not suffer from production interruptions in drug supply. (Source: IQVIA)
Communication with healthcare professionals is very important in the pharmaceutical industry. Health authorities, physicians, pharmacists, and the pharmaceutical industry are parties that understand and support each other. However, both the risk of contamination and the increased workload of healthcare professionals during the pandemic significantly disrupted this communication from the beginning and we had seen limited improvement since. With daily life normalizing and with the new pandemic-induced habits becoming ingrained, I think that this communication will progress into a hybrid model that is similar to the old one but not completely the same. The pharmaceutical industry plays a critical role in the strategic sustainability planning of a country. It is of vital importance for a country to be able to produce the medicine it needs. The pandemic reconfirmed this. The health sector and the pharmaceutical industry will always continue to develop in the future in our country. Therefore, it should be supported. With new R&D investments, biotechnological products will soon be produced in Turkey alongside traditional medicines. 
Which priority areas are you targeting for change in the medium term, and which new practices are you looking to implement? 
Since I have been working for Ali Raif for a long time, I had the chance to take an active role in many decisions and practices. I know how important it is to protect the corporate culture in these decisions and practices. That's why I aim to increase our success momentum by preserving the values we have.
I'm thrilled that our teammates enjoy working in cooperation and solidarity towards a common goal. As a company that grows and develops every year, we aim to bring new products to the treatment areas we work in and produce solutions that will make life easier and increase access by understanding the needs of patients and physicians with innovative applications. With the launch of our new factory, we are preparing to expand into new treatment areas with new products. One of our most important goals is to introduce our products to international markets.
Successful businesses are built with educated and well-trained people. Investing in people is our most important goal in the next five years.
This article was published in the 74th issue of WORKSHOP magazine in September 2021.
Workshop Zirveden / Nihal Arslan